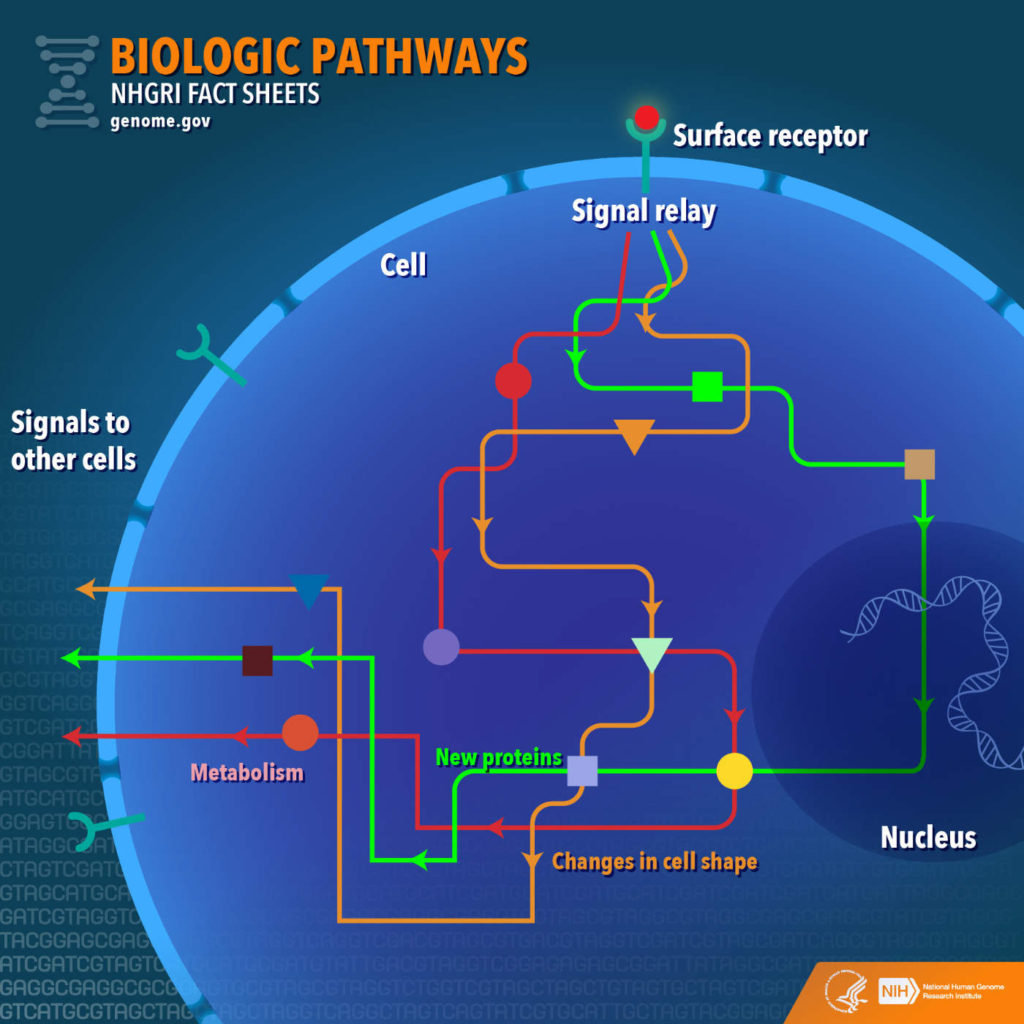 (Bilingual post) This article is a reduced version of an excellent article on Ben Greenfield's website to make it easier for my typical readers to digest, and more so for the purpose of translating it into Chinese. Those of you who want to dive deeper can find more links at the end of this article. (The digram on the left is not part of Greenfield's article. It's from a public domain NIH site defining what "biological pathways" are.)
本文是 Ben Greenfield 網站上一篇長文的縮短版,旨在讓我的典型讀者更容易理解,尤其是為了將其翻譯成中文。想要深入了解的朋友可以在本文結尾處找到更深入討論的文章連結。
Note by Coach Denys: This article discusses how calorie restriction helps anti-aging through the functions in 3 important metabolic pathways. Aside from getting an appreciation of the nitty-gritty details of why calorie restriction helps anti-aging, it also explains why some of the practical anti-aging regimens can work – including NAD, metformin, resveratrol, EGCG, curcumin, breathwork, good sleep, and healthy/normal circadian rhythm. One last note: the scientific details behind and strategies discussed in this article are not comprehensive for anti-aging. There are more aspects and modality for anti-aging not covered in this article.
防彈大叔說明:本文討論了限制熱量攝取如何通過3條重要的代謝途徑中的功能幫助抗衰老。 除了可以了解為何這樣會有助於抗老化的精妙細節之外,它還解釋了為什麼一些實用的抗衰老療法可以起作用:包括補給品 NAD、二甲雙胍、白藜蘆醇、兒茶素、薑黃素,以及(強調用鼻孔的)呼吸調理法、良好的睡眠、和正常的晝夜節律。最後再補充一點,這篇文章裡提到的所有機能和方法並不是抗老化的全部,還有其他的面向、策略、和方法並沒有談到,這篇只專注在和限制熱量(飲食)攝取有關的面向。
The digest starts here… 摘要分享從這裡開使:
---
Caloric restriction (CR) with adequate nutrition is the only non-genetic, and the most consistent non-pharmacological intervention that extends lifespan in model organisms from yeast to mammals, and protects against the deterioration of biological functions, delaying or reducing the risk of many age-related diseases."
在已有適當均衡的營養攝取的前提之下,減少對熱量的攝取是目前所知唯一不透過基因也不用藥物干預就可將模型生物(包括酵母甚至哺乳動物) 的壽命延長、防止其生理功能惡化、延緩或減少許多與年老有關的疾病發生的方法。
It has been discovered that CR effects innumerable processes throughout the body. These range from affecting concentrations of various hormones, to the activity levels of different cell types. Most importantly however… scientists have uncovered several metabolic pathways (or biological pathways, cellular pathway) that get either turned on or off under conditions of caloric stress that influence our time clock.
科學家們已經發現減少熱量攝取會對人體的諸多生理過程產生變化,包括影響各種荷爾蒙激素濃度和不同細胞類型的活性水平等等。 然而,最重要的是科學家發現了幾種細胞訊息路徑(或稱代謝途徑),這些途徑在不同的熱量降低狀況下會開啟或關閉,進而影響了我們壽命的長短。
(Here is a more detailed explanation on What Biological Pathways are. 進一步了解什麼是代謝途徑)
These pathways measure the environment in terms of stress level, nutrient availability, oxygen concentration, and then determine the best course of action for the organism as a whole. We are going to talk about the three major pathways that affect aging.
這些代謝途徑會根據體內的各種壓力、營養素條件和氧氣濃度來決定應該走怎樣的一條途徑才會對整個生命體來說是最佳選擇。下面我們就針對影響老化程度最大的三個代謝途徑(或指標)做一些重點介紹。
---
The First Marker Of Aging: AMP Kinase
老化指標 (代謝途徑) 1:腺苷單磷酸激活蛋白激酶
Short for Adenosine Monophosphate-activated Protein Kinase, AMPK is a central regulator of cellular and organismal metabolism that plays a critical role in maintaining energy homeostasis. It is otherwise known as the Metabolic Master Switch. It has also been labeled a "fuel gauge" or the "guardian of the energy status."
AMP 是 "Adenosine Monophosphate-activated Protein"的縮寫。腺苷單磷酸激活蛋白激酶(AMPK)是細胞和機體新陳代謝的中央調節器,在維持能量穩態方面發揮著關鍵作用。 它也稱為代謝主開關。 也有人把它標記為"燃油表"或"能源狀況的守護者"。
Once a low energy state is detected, the enzyme reacts by seeking out replacement energy. Thus, AMP Kinase (AMPK) promotes catabolic mechanisms (processes to break things into smaller pieces) that generate ATP while simultaneously inhibiting anabolic systems (processes that build different things) that consumes ATP.
一旦檢測到低能狀態,AMP Kinase 就會開始尋找替代能量。 因此,當能量來源偏低的時候,AMPK會促進產生ATP的分解代謝機制(一種將物質分解為較小碎片的過程),同時抑制需要ATP的合成代謝系統(一種構建不同物質的過程)。(註:ATP乃人體內所有細胞和功能運作的能量單位)
"Efficient control of energy metabolic homeostasis, enhanced stress resistance, and qualified cellular housekeeping are the hallmarks of improved healthspan and extended lifespan. AMPK signaling is involved in the regulation of all these characteristics via an integrated signaling network."
"有效維持能量代謝的穩定平衡狀態、提高抗壓性和進行良好的細胞清理是改善老年健康期和延長壽命的最高境界;AMPK透過一個訊號整合網路發揮調節功能以達到這樣的境界。"
In a nutshell, the activation of AMP Kinase does the following:
簡單地說,AMPK激活以後會有下列功能:
In order to INCREASE the ATP production, the kinase:

Increases cellular uptake of glucose
Increases glycolysis, i.e. increases the breakdown of sugar to produce more energy
Increases fatty acid oxidation, i.e. breaks down fats for more energy
Triggers the acute destruction of defective mitochondria while stimulating new mitochondria to be produced
This can be considered as a "cash for clunker" system whereby the cell recycles broken or used mitochondria to get more efficient, newer models. This is actually called autophagy and will be discussed at length in a different section

為了要提高ATP的產量, AMPK就開始:

增加細胞對葡萄糖的攝取
增加糖酵解,即增加糖的分解以產生更多的能量
增加脂肪酸氧化,即分解脂肪以獲得更多能量
觸發有缺陷的線粒體的急性破壞,同時刺激新的線粒體的產生
這可以被視為"舊車換現金"系統,通過該系統,細胞可以回收破碎的或使用過的線粒體,以獲得更高效,更新的模型。這實際上稱為"自噬",會在其他文章裡進行詳細討論
In order to DECREASE ATP utilization, the kinase:

Decreases fatty acid synthesis (essentially manufacturing less fat)
Decreases steroid synthesis
Decreases glycogen storage
Decreases protein production
Decreases cellular growth

為了要降低ATP 的耗用,AMPK 就開始:

減少脂肪酸合成(基本上減少脂肪)
減少類固醇合成
減少糖原存儲
減少蛋白質產量
減少細胞生長
There are also other housekeeping activities that have recently been linked to AMP Kinase, such as:

Influencing circadian clock regulation
Reducing oxidative stress
Reducing inflammatory markers

最近的研究也發現AMPK跟細胞內某些維護清理工作也有關係:
Unfortunately, as we age and the activity of AMP Kinase declines, this causes a growing number of problems around the body. For example:
Decrease in autophagy (intracellular recycling of proteins and organelles)
Increasing oxidative stress
Increasing inflammation
Increasing fat deposition (The annoying belly fat that accumulates with age)
Hyperglycemia (high blood glucose levels)
不幸的是,隨著年齡的增長和AMP激酶活性的下降,這會引起越來越多的身體問題。 例如:
細胞自噬(細胞內蛋白質和細胞器的再循環使用)減少了
氧化壓力升高
體內發炎加劇
脂肪沉積增加(隨著年齡的增長而煩人的腹部脂肪)
高血糖症(高血糖水平)
What usually triggers AMP Kinase?
Low energy
Ischemia (Lack of blood flow and resultant lack of oxygen and nutrients to an area)
Anoxia (Lack of oxygen)
Stimulation from fat-based hormones: leptin and adiponectin
Exercise
(Coach Denys: This is why the following are among my anti-aging regimines: fasting, breathworks emphasising extending exhaling longer than inhaling, nasal breathing even during aerobic exercise, low-carb or ketogenic diet, and exercise with weight training and HIIT. )
通常什麼會觸發AMP激酶?
低能量
局部缺血(血流不足,導致區域缺氧和缺乏營養)
缺氧
脂肪基激素刺激:瘦素和脂聯素
運動
(防彈大叔補充說明:這也是為什麼在我的養生方法裡包含了下面這些撇步:斷食、強調吐氣時間要比吸氣長的呼吸調理法、即使在跑步或騎車有氧耐力運動中還是盡量保持吸氣和吐氣都只經過鼻孔 ((這兩個呼吸方法都是為了提升身體對缺氧狀態的適應力,因為適度地缺氧對身體是有很大的好處的))、生酮或低碳高脂飲食、經常性的運動尤其以重訓和高強度間歇訓練為基石)
We can pharmacologically improve the situation. Caloric mimetics triggering AMP Kinase include:
AMP激酶活性下降的問題也可以從藥理上改善(也就是透過營養補給品)。 觸發AMP激酶的熱量模擬物(當補給品)包括:
---
The Second Marker Of Aging: The Sirtuins
老化指標 (代謝途徑) 2:去乙醯酶
Otherwise known as the Silent Information Regulator gene, this family regulates the body's metabolic and growth pathways.
Much like AMP Kinase, the sirtuin family (genes and associated proteins) senses the environment in terms of energy availability, timing of daylight, environmental stressors and alters the metabolism to promote survival. Sirtuin activity can activate AMP Kinase activity, so many of the downstream effects are the same.
去乙醯酶也被稱為"沈默信息調節基因",它調節人體與代謝 和生長相關的代謝途徑"。
跟AMP激酶類似,去乙醯酶族(包括基因和相關蛋白)會去感應人體內在能量庫存、一天24小時的鐘點時刻(由外在環境的日光決定)、環境壓力等因素,據以改變新陳代謝,提高身體存活機率。 去乙醯酶活性可以激活AMP激酶活性,因此這兩者許多下游作用是相同的。
Mammals (including people) carry the genes for seven members of the sirtuin family, cleverly named SIRT 1-7.
SIRT1:

Located in the nucleus
Circadian rhythm regulation (which is more important than you think)
Mitochondrial DNA transcription
Oxidative stress
Inflammatory pathways (NF-κβ)
Sarcopenia (muscle wasting)
Mitigation of metabolic dysfunction

SIRT2:

Located in the cytoplasm and nucleus
Mitosis entry (cellular reorganization during cell replication and division)
Regulates fat tissue
Known to affect histones @H4K16 (thus an epigenetic modifier)

SIRT3:

Located in the mitochondria
Orchestrates mitochondrial function
Increases production of superoxide dismutase
Apoptosis (getting rid of useless dead cells)
Affects brown fat expression
Known to affect histones @H3K9

SIRT4:

Located in the mitochondria
TCA or Krebs cycle (Controls cycle which is a preliminary step in energy production)

SIRT5:

Located in the mitochondria
Uric Acid cycle (Don't worry about this)

SIRT6:

Located in the nucleus
Controls inflammation through effects on NF-κβ
Telomeric preservation
Prevents diet-induced obesity
DNA repair
Extends lifespan
Known to effect histones @ H3K9, H3K56

SIRT7:

Located in the nucleus
Controls nucleolar maintenance during cellular stress
哺乳動物(包括人類)攜帶去乙醯酶家族七個成員的基因,巧妙地命名為 SIRT 1-7。
SIRT1:

位於細胞核內
晝夜節律調節(這點比您想像的要重要)
線粒體DNA轉錄
氧化應激
體內發炎途徑(NF-κβ)
肌肉減少症(肌肉消瘦)
緩解代謝功能障礙
SIRT2:

位於細胞質和細胞核
有絲分裂的門檻(細胞複製和分裂過程中的細胞重組)
調節脂肪組織
已知會影響組蛋白@ H4K16(因此是表觀遺傳epigenetics的一個修飾因子)
SIRT3:

位於線粒體內
協調線粒體功能
增加超氧化物歧化酶的產生
凋亡(清除無用的死細胞)
影響棕色脂肪的呈現表達
已知會影響組蛋白@ H3K9
SIRT4:

位於線粒體內
TCA或Krebs循環(控制循環,這是能源生產的最初步驟)
SIRT6:

位於細胞核內
通過NF-κβ控制體內發炎
端粒保護 (端粒telomere完整度是預測壽命長短最準確的指標)
預防飲食引起的肥胖
DNA修復
延長使用壽命
已知會影響組蛋白@ H3K9,H3K56

SIRT7:
The structure of the sirtuin proteins have three important conserved sites – the activation site, the NAD binding site, and the zinc-binding site.
There are two take-home messages here:
There IS a NAD binding site, which means that the entire sirtuin family is useless without NAD. … NAD was a rate-limiting molecule that declines with age, seriously affecting cellular energy production. The same deficit in NAD can devastate all of the vital standard cellular functions controlled by the sirtuins and especially their anti-aging properties.
The second take-home message is the zinc-binding site… it turns out that many micronutrients, like zinc, become especially important in order to maintain the innate anti-aging systems.
(Coach Denys: This is why NAD is now among the most promoted anti-aging supplements. However, unless you have access to NAD IV (NAD via. Intravenous drip), which is quite expensive and not available in many countries other than the US and some EU countries, most NAD pills on the market do not have high absorption rate or efficacy. Some people resort to taking NAD precursor such as NMN and NR, which are still not cheap but more affordable and available.)
去乙醯酶蛋白的結構具有三個重要的保留位點:激活位點、NAD結合位點、和鋅結合位點。這個特性表達了兩個重要的意義:
有一個NAD結合位點,這表示如果沒有NAD,整個去乙醯酶家族是無法發揮做用的。 …NAD是一種流量控制調節分子,會隨著年齡的增長而下降,然後就會嚴重影響細胞能量的產生。 NAD的缺陷會破壞去乙醯酶控制的所有重要的標準細胞功能,尤其是與抗衰老有關的功能。
第二個重要信息是鋅結合位點……長話短說,許多微量營養素(如鋅)對於維持先天性抗衰老系統很重要。
(防彈大叔補充說明:這就是為什麼NAD現在是最夯的抗衰老補品之一的原因。 但是,除非您可以找到靜脈注射的NAD ((很貴,而且在美國和某些歐盟國家以外的許多國家/地區根本找不到)),否則市場上的大多數口服NAD膠曩都沒有很高的吸收率或功效。 有些人改用"NAD前體",例如NMN和NR,它們仍然不便宜,但價格稍低且較容易買到。)
One of the most interesting, yet I believe under-appreciated, mechanisms is that of our circadian cycle.
It turns out, the circadian cycle is controlled by a combination of SIRT1 and NAD. Both are controlled by aging; both decrease over time and luckily, both deficiencies are easily remedied.
The circadian mechanism itself is controlled by the production of four different protein complexes, two of which are active during the day, the other two at night… In essence, the circadian cycle is a constant battle with two against two. Interestingly, this process appears to be regulated by NAD.
在這個議題裡最有趣的是"晝夜節律機制",但我發現大多人對此並沒有充分的理解。
晝夜節律週期其實是由SIRT1和NAD的組合來控制的。 兩者均受年齡老化影響,兩者也都隨著歲月增長而減少;幸運的是,這兩種缺陷都可以很容易地彌補。
晝夜節律機製本身是由四種不同蛋白質複合物的產生所控制的,其中兩種在白天很活躍,另外兩種在夜間才活躍……從本質上講,晝夜節律循環是這兩組蛋白質複合物不停對抗鬥爭過程的呈現。 有趣的是,此過程似乎是由NAD在監管。
In another bit of odd fate, the production of NAD is controlled by the circadian cycle, while the availability of NAD drives the circadian cycle. Seems a little inbreed, as well as a set up for failure. Regardless, having enough NAD is crucial.
The loss of circadian rhythms with age is controlled by a combination of the decline in the sirtuin family in conjunction with the declining concentrations of available NAD.
另一個奇怪的現象是,雖然NAD的存在量會驅動晝夜節律的周期,NAD的產生卻也受晝夜節律控制。 似乎有點狗咬尾巴,注定終究會失敗。 無論如何,擁有足夠的NAD對防老化至關重要。
隨著年齡的增長,晝夜節律的失調是由去乙醯酶家族的減少和可利用的NAD濃度的下降共同控制的。
Metabolism and insulin production are tied to circadian rhythms, which makes diabetes even worse with age. Disruption in the cycle is also known to contribute to cancer. Women that work nights and have disrupted sleep are more likely to get breast cancer, and unfortunately for us, the rate of aging is also accelerated with the breakdown of sleep patterns.
(Coach Denys: This is also why getting good sleep and maintaining a healthy circadian rhythm is crucial for anti-aging.)
代謝和胰島素的產生與晝夜節律有關,這也是為什麼糖尿病會隨著年齡的增長而惡化。 晝夜節律失調還會導致癌症,這點也早就有科學根據: 上夜班導致睡眠中斷的女性得乳腺癌的風險更高;更不幸的是,隨著睡眠節律的破壞,衰老的速度也會加快。
(防彈大叔補充說明:這也是為什麼充足的睡眠和維持正常的晝夜節律對防老化非常重要)
So, the sirtuin family is essential in the aging process. This begs for the question of "how can we enhance the sirtuin in our body? Exercise and caloric restriction both can help. There are readily available substances that are known to activate the sirtuin family. One of the most known is resveratrol. (There are many others to be discussed in other articles.)
因此,去乙醯酶家族在衰老過程中至關重要。 這引出了一個問題:"我們如何增強體內的去乙醯酶? 運動和限制熱量攝取都會有幫助。 另外也有許多可以增加體內去乙醯酶的營養補給品,以後其他文章再討論,這裡就只先說其中最有名的一樣就是白藜蘆醇 (resveratrol)。
---
The Third Marker Of Aging: mTOR
老化指標 (代謝途徑) 3:mTOR (mammalian Target Of Rapamycin, 哺乳動物雷帕黴素靶點)
The mTOR pathway is essential for growth and development when you are young. However, as we get older, we just don't need it very much anymore. Unfortunately, the body just forgets to turn it off.
當您年輕時,mTOR 途徑對於生長發育至關重要。 但是,隨著年齡的增長,我們不再需要它了。 不幸的是,我們的身體總是忘記把它關掉。
mTOR, "Mammalian or Mechanistic Target of Rapamycin", is a serine/threonine protein kinase, thus it's an enzyme in the mediator family.
This signaling pathway, much like AMP Kinase and the sirtuins, is influential throughout the body, affecting both intra and extracellular signals. It, as well, senses the environment, specifically amino acid availability, growth factors, insulin, energy status, oxygen levels and cellular stresses. In response, mTOR promotes anabolic processes; it builds things. mTOR is essential to the biosynthesis of proteins, lipids, and organelles. This pathway is key to the growth and development of all cells and tissues, especially during the youthful periods of life.
mTOR 是一種絲氨酸/蘇氨酸蛋白激酶,因此是調節質家族中的一種酶。
此信號通路與AMP激酶和去乙醯一樣,在整個身體中都具有影響力,既影響細胞內信號,又影響細胞外信號。 它還可以感應環境,尤其是針對氨基酸的可用存量、生長激素、胰島素、能量狀態、氧含量和細胞應激(壓力)。 針對這些訊號的回應,mTOR主要功能是促進了合成代謝過程:會建構新物質。 mTOR對於蛋白質、脂質和細胞器的生物合成至關重要。 該途徑是所有細胞和組織生長和發育的關鍵,特別是在年輕時期。
Unfortunately, as the body grows older, the need for unbridled growth is no longer important, and actually becomes detrimental. mTOR activity, especially mTOR signaling in the hypothalamic neurons, increases in an age-dependent fashion… The older cells (now with decreased functions and capacity) get pushed into what is called cell senescence. While these cells cannot divide, they begin to physically expand, and overproduce whatever it is they were producing in the first place. The cells thus first become hyper-functional; homeostasis is altered, and age-related diseases begin to appear. Ultimately, they start producing inflammatory factors and begin inflicting damage to the organism. Increased blood pressure, for example, is partially the result of the hyper-functioning of smooth muscle cells within the arteries. Platelets, responsible for the formation of clots when you are bleeding, become hypercoagulable and cause clots when they shouldn't. This can cause heart attacks and strokes.
不幸的是,隨著身體的變老,人體不再需要無節制的生長,那樣反而會變得有害。 mTOR活性(尤其是下丘腦神經元中的mTOR信號,跟著年齡增加) …那些較老的細胞 (因為功能和能力已下降) 演變成所謂的細胞衰老。儘管這些細胞已無法分裂,但它們依然繼續擴張本體 (因為mTOR訊號還很強),並首先生產出過量的產品。因此,細胞首先變得功能亢進。生理穩態 (homeostasis) 被改變,與年齡有關的疾病因此開始出現。最終,它們開始產生"體內發炎因子"並開始對有機體造成損害。例如,血壓升高部分是動脈內平滑肌細胞功能亢進的結果。導致出血時形成血塊的血小板會變得高度凝結,並在不應該形成血塊時引起血塊,因而導致心髒病發作和中風。
Osteoporosis is the result of overzealous osteoclasts in the bone (osteoclasts destroy bone while osteoblasts rebuild bone.) Further examples include hyperglycemia, increased resistance to hormones, and higher circulating inflammatory factors. As time passes, these processes eventually lead to cell death, organ and tissue death and then organismal decline.
另外,骨質疏鬆症是骨骼中的"破骨細胞"過度反應的結果("破骨細胞"破壞骨骼,而"成骨細胞"重建骨骼)。 其他例子包括高血糖症、對荷爾蒙激素抵抗力過高、和循環發炎因子升高。時間久了,這些過程最終導致細胞死亡,器官和組織死亡,然後導致機體衰退。
Autophagy is an intracellular process where damaged organelles and unwanted molecules get broken down and recycled to make new ones. Removing damaged parts and pieces within a cell is crucial.
mTOR prevails in times of high nutrient availability. Thus, it has no use for recycling. Activation of mTOR, therefore, blocks the process of autophagy. Conversely, blocking mTOR facilitates autophagy.
Research has demonstrated that blocking the mTOR pathway is good for longevity.
自噬是細胞內部一種非常重要的程序,受損的細胞器和不需要的分子會被分解並回收以產生新的細胞器。 移除細胞中損壞的零件至關重要。
當體內營養成分和熱量充足時,mTOR會佔優勢,這時候細胞內就沒有在做回收。 所以,mTOR的激活會阻止自噬過程。 相反,阻斷mTOR會有助於自噬。科學研究早已證明阻斷mTOR通路有助於延年益壽。
As the keynote blocker of mTOR, rapamycin had been studied extensively and does some pretty incredible things, includng:
There is a delay in the loss of stem cell function. This is useful as tissues that require high cell turn over, like blood or skin cells, can make new cells for a longer period of time before pooping out
Delay in cognitive decline
Delay in onset of retinopathy
Delayed heart failure
Delayed liver degeneration
Delayed endometrial hyperplasia
Less tendon stiffening
Less decline in physical activity
Cancer prevention (being used at present for Renal Cell Carcinoma)
雷帕黴素(rapamycin)是一種mTOR的基調阻斷劑,已得到廣泛研究,證實了它(在老化過程中)有一些非常不可思議的功能,包括:
延遲幹細胞功能喪失。 這很有用,因為需要高細胞翻轉的組織(例如血液或皮膚細胞)可以在排出體外之前有較長時間產生新細胞
延遲認知能力的下降
延遲視網膜病變
延遲心臟衰竭
延遲肝功能退化
延遲子宮內膜增生
減少肌腱僵硬
減低活動力下降的現象
癌症預防(目前用於腎細胞癌)
Downside of rapamycin : the drug is an immunosuppressant. That means that the risk of getting infections is extremely high. Other negative side effects include:
Ninety percent of people lose their hair (alopecia), and most report other hair and nail problems
Men lose testicular function and fertility
In addition to these issues, there are a host of metabolic changes as well, such as:
Hyperlipidemia
Decreased insulin sensitive
Glucose intolerance
New onset diabetes
Diarrhea
雷帕黴素(rapamycin)的缺點:該藥是一種免疫力抑製劑,就是會提高感染疾病的風險。 服用雷帕黴素的負面影響包括:
90%的人掉頭髮,很多人回報有其他頭髮和指甲的問題
男性失去睾丸功能和生育能力
除了這些問題以外,還有許多代謝變化,例如:
高脂血症
胰島素敏感性降低
葡萄糖不耐症
新發糖尿病
腹瀉
A small good news here is that Metformin (glucophage), which acts through the activation of AMP Kinase can help to depress the levels of mTOR.
(Coach Denys: Metformin has its own undesirable side effects of weakened mitochondria energy and lowered vitamin B-12 level.)
這裡的一個小小好消息是,通過激活AMP激酶而起作用的二甲雙胍 (糖蛋白) (是一種已被廣泛使用多年的第二型糖尿病用藥)可以幫助降低mTOR的水平。
(防彈大叔補充說明:但是二甲雙胍具有削弱線粒體能量和降低體內維生素B-12的不良負作用。)
---
About the source of information in this article:
Here is the original (longer) article posted on Ben Greenfield's web site. The article was actually not written by Ben. It's the excerpt of a 2018/07 book The Kaufmann Protocol: Why we Age and How to Stop it provided to Ben by the author Dr. Sandra Charlotte Kaufmann, who had just been interviewed in a podcast by Ben in 2019/07.
Ben Greenfield 網站上的 原文版本 (文長慎入)。這篇文章其實不是Ben寫的,而是一本2018年7月出版的防老化新書的摘要,由作者珊卓.克夫曼博士提供給Ben。克夫曼博士在2019年7月接受了Ben的專訪後,很慷慨的提供這篇摘要給Ben的讀者。
To get really geeky, you can read the book The Kaufmann Protocol: Why we Age and How to Stop it by Dr Sandra Charlotte Kaufmann.
有興趣進一步去原汁原味讀這本很有料的防老化新書的朋友可以去讀這本原文書:The Kaufmann Protocol: Why we Age and How to Stop it
To get more practical tips on these topics, you can also read the section "Advanced Anti-aging Biohacks and Strategies" in Chapter 19 "Longevity Decoded" of Ben's 2020 new book Boundless.
另外,Ben 在2020/03才出版的抗老化新書Boundless 裡的第19章裡面的一段也有針對相同議題提供一些很實用的方法。